November 2nd, 2011
Those who have known me since my toddler years were probably not surprised by the adventure I just embarked upon last Saturday. They remember my fondness for the large mud puddle that formed in our driveway after a rain.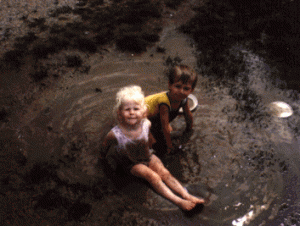 When my friend mentioned doing the Madison Mud Run on October 29th, I was a bit skeptical. First of all, I have never even done a 5k, let alone a 4.6 mile course complete with time hindering (and body bruising) obstacles. However, the adventurous side of me was like "sure." Several months later, I found myself wearing my work out gear at a park in Verona on a 36 degree October morning surrounded by people in hysterical costumes. All of us were hopping up and down in some attempt to stay warm and trying to forget that the first "obstacle" we will be subjected to after running past the starting line would be a hip high (waist for some of us) ditch full of icy cold water. Did I mention the the fact that you sank down into 1 foot of muck as soon as you stepped in?
It really wasn't as bad as I thought it would be. By the time we got to the ditch, I was already warming up. While it was no relaxing bath, it wasn't as much of a shock as I thought it would be. The hardest part was getting out (I almost couldn't reach the board to grip). I was lucky enough not to need to push in the rear one of my other friends received to help crawl out of the muck. The next difficult task was making my now numb legs work again. While I did not necessarily feel cold at that moment, my legs were numb and it felt like someone had tied some lead weights to my ankles somewhere in that water.
At any rate, I kept moving and we came to some other obstacles. Some were easier than others. As I came up on a wooden wall with little plastic "rocks" screwed to it, I thought, "Okay, I can do this–not too bad." I managed to haul my rear over that one. I hit the ground only to spot a second wall just up ahead. As I approached and looked for more toe holds I saw that there were none and stopped in my tracks. What? I barely managed to jump high enough to get my arms under me and a knee up (but meanwhile whacked the heck out of one knee–I have a lovely bruise to show for it). But I did it! I hauled my ass over that wall with nothing to climb and no assistance. If it had been any higher I would have needed that butt boost.
Further on my adventures included running up a soapy ramp, and climbing through a soaped up tunnel (going up hill, no less–but at least we got to slide back down on the other side). I also took an awesome slip and slide ride down a long hill, then ran wet and soapy through a bounce house in which we had to climb up and slide down (that sounds easy, but try it wet and soapy some time). There were several other things sprinkled in there, but the best was last. As I neared the end of the race, I ran up to a huge mud pit which I was meant to traverse on my hands and knees. It felt pretty gross, but I must admit, it was pretty fun.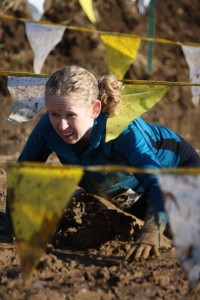 In the end, I was battered, bruised, a little sore and hyped to do it again next time. Honestly, it was a blast. I was frozen when I started to cool down, but I am really proud that I was able to complete it. I placed 50th out of 197 in my division (Women 30-39) and 145 of 601 women over all. My over all finish was 307th, but I don't know how many people there were total. In the end I am pretty proud because I ran (albeit slow, but still ran) nearly the whole way. I stopped and walked a few times for 15 seconds or so–just enough to catch my breath a bit. I didn't really train for it, either, unless you count my usual gym activity (doing various classes 3-4 times a week). I really am in the best shape I have ever been in though. Hopefully I can keep that going and be in even better shape next time (that is if I can fight the vicious Halloween Candy Monster sitting on my counter….)
Who wants to do the next Mud Run in May!?